<![CDATA[SOURCE: prweb.com

However, Trump retains a clear lead over rivals in volume of comments to his page

NEW YORK, NY (PRWEB) SEPTEMBER 11, 2015 New data from NewsWhip reveals that Dr. Ben Carson is the leading Republican candidate when it comes to Facebook engagement. Carson's Facebook page notched up some 7.3 million engagements between late July and the end of August, giving him a considerable lead over his nearest rival on social, Donald Trump. Perhaps surprisingly, given the latter's wider recognisability and huge levels of media attention, he placed second in NewsWhip's rankings with a total of 6.2 million engagements during the same time frame. The 30-day period examined for the analysis took in the first GOP debate on August 6th. NewsWhip combined the total number of likes, comments, and shares for each of the major candidates' official Facebook pages to reach the figures stated. Notably, Carson also had the most successful post of all the candidates, with an update in the immediate aftermath of the GOP debate earning almost 464,000 engagements. Other key findings from the analysis include: Mike Huckabee, Ted Cruz, and Rand Paul rounded out the top 5; each earning over 1 million engagements during this time frame. Huckabee and Cruz in particular are closely linked with only about 30,000 engagements separating their respective tallies. When the candidates are ranked by Facebook comments alone, Trump takes the lead. His page received some 615,000 comments during this period – 400,000 more than second-placed Carson. Levels of activity varied hugely among the candidates. Trump posted only 53 times in these 30 days but generated an average 115,299 engagements per post. By contrast, other candidates were extremely prolific but earned much lower engagement – Paul, for instance, posted 282 times this period but each post had an average of only 4,160 engagements. The type of content favoured by the candidates also differed significantly. Carson and Trump's best-performing posts were text-only updates. Huckabee and Cruz earned huge numbers on images, while lower-ranked candidates posted high numbers of external links. Commenting on the figures, Grace Duffy, Content Producer for NewsWhip said, "Our data shows that Ben Carson has considerable reach and may be something of a dark horse in the race to reach supporters on social. While Facebook 'likes' do not necessarily translate into votes, these findings do offer food for thought as an illustration of how well the candidates are interacting with their audiences. We'll be coming back to these rankings as the race continues, to see how the candidates fare over time." Read the full report with analysis of all the major Republican candidates on the NewsWhip blog. A report ranking the Facebook performances of the major Democrat candidates will be available at a later date. About NewsWhip: Based in Dublin, Ireland and New York, NewsWhip is a social media analytics platform, powering a suite of trending analytics products, used by journalists, editors, marketers and comms and PR professionals. NewsWhip's best known product, Spike, is a dashboard for analyzing real-time social velocity and trajectory of content. Spike predicts 79% of future viral news and stories and is used by clients such as: BBC, BuzzFeed, Edelman, Fleishman Hillard, Huffington Post, Intel, Mastercard and Yahoo!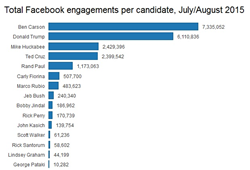 http://www.prweb.com/releases/2015/09/prweb12956246.htm