<![CDATA[SOURCE: prweb.com

Check out some of the hottest new trends in Halloween costumes for the 2015 season. From Donald Trump to Minions to Star Wars, see what children and adults will be wearing this year.

NORTH MANKATO, MN (PRWEB) OCTOBER 15, 2015 All Hallows' Eve, All Saints' Eve, Halloween, whatever you refer to it as, this annual fall celebration has become a behemoth of a holiday. The debate surrounding Halloween's origins is still being waged, but when you are at a house party surrounded by "sexy" Minions, provenance matter little. This year, like almost every year preceding it, Halloween is becoming more popular, more commercialized, and more outrageous. No longer a holiday just for kids, Halloween has become increasingly popular with adults looking for an escape and the opportunity to Cosplay as their favorite superhero, monster, or meme. Popular themes for adult costumes this year range from the political to the cinematic to the flash-in-the-pan topical. Donald Trump, everyone's favorite political fascination, is going to be showing up at nearly every Halloween party this year. His iconic wig has already sold out once on HalloweenCostumes.com, and has since been restocked – only to sell out again! The biggest blockbuster films of 2015 will also be hot costumes this year, whether it be Chris Pratt's Velociraptor trainer (or the dinosaurs themselves) from Jurassic World, Mad Max: Fury Road's Furiosa, or the intergalactic heroes and villains from the soon-to-be released Star Wars: The Force Awakens. As 80s babies grow older, costumes that channel nostalgia have become hot sellers too. The 90s in particular are ripe for parody and laughs. Nickelodeon throwbacks, Hungry, Hungry Hippos, and other 90s ephemera will be big this year for the generation that's "coming of age" and wants a costume that reminds them and their friends of the good old days. With 2015 also marking the year that Marty McFly went into the future in Back to the Future Part II, look to see clever costumers rocking the full, exclusive McFly getup, featuring the iconic jacket, hat, light up shoes and 1:1 scale hoverboard. Social media has helped give rise to fleeting (but no less entertaining) viral trends and memes as well. These "why didn't I think of that?" costumes are always a hit at parties because they are absurd and topical. Keep a look out for these viral trends while in the line for the punch bowl, from Super Bowl halftime Left Shark, Netflix and Chill, Pizza Rat, Game of Thrones' Shame, and yes, even a very sarcastic take on Burger King's Green Poop. There is some overlap between adult and children's costumes, such as Star Wars, Jurassic World, and 90s nostalgia, but the absolute most popular costume for kids between the ages of four and 10 this year will be the incorrigible Minions. These yellow, overall-wearing goofballs were everywhere this year, and Halloween will be no exception. Costumes based on Disney and Pixar films have been flying off the virtual shelves, including the characters from Inside Out and Big Hero 6. Dinosaurs have really never gone out of style, but with the release of Jurassic World, they are back with a vengeance. HalloweenCostumes.com carries a variety of dino-styles, from officially licensed masks to full-fledged, deluxe outfits. For the littlest of trick or treaters, expect them to request costumes of characters from their favorite TV shows. We've seen a huge uptick in sales for Paw Patrol, Peppa Pig, and TMNT. Overall, one trend we are seeing among Halloween enthusiasts is no longer thinking of costumes as a "one and done" throwaway affair. People are looking for costumes made with better (higher quality/more expensive) materials that fit more like "regular" clothing. And rather than those one piece tunic-style costumes, these apparel costumes often have multiple pieces – a vest, jacket, pants, etc. With Halloween's popularity skyrocketing in the last few years, expect to see manufacturers creating more elaborate and higher price point costumes for children and adults. With more parties and opportunities to wear said costumes, many adults feel that spending a little more on a costume is justifiable, and with that higher quality, it can be reused year after year. So go ahead and spend $120 on that deluxe Attack on Titan costume—you deserve it. About HalloweenCostumes.com: Based in North Mankato, Minnesota, HalloweenCostumes.com is a world leading retailer of costumes and accessories. With more exclusive styles and sizes added every day we can't guarantee your choice will be easy, but we can guarantee an exciting shopping experience that includes unequaled customer support and tools to ensure you find a costume that's your perfect fit!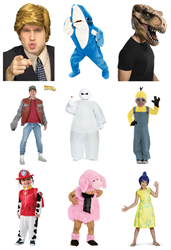 http://www.prweb.com/releases/2015/10/prweb13020135.htm