<![CDATA[SOURCE: PRWeb

New Movement of Over 3,000 Supporters Seeks RNC Nomination of Marco Rubio for President at Brokered Convention

FORT LAUDERDALE, FL (PRWEB) APRIL 13, 2016 The Chairman of the Small Business in Transportation Coalition ("SBTC") issued a statement today that a group of over 3,000 Marco Rubio supporters has launched the new "Nominate Marco" movement and campaign, a quest to convince unbound delegates to select Rubio as the Republican nominee during a probable brokered Republican National Convention in Cleveland, Ohio this Summer. The group's new website offers detailed strategy and FAQ pages. The website address is http://www.nominatemarco.com. "One year ago, on the morning of April 13th, 2015, the Honorable Senator Marco Rubio rehearsed during a private breakfast in Miami his announcement speech that he would give later that day to America from Freedom Tower. I sat right in front of him. I was proud then, and I am just as proud now to announce that here we are one year later launching the NominateMarco.com grassroots effort and website. Exactly 45 days from today, on Saturday, May 28th (Memorial Day Weekend), which just so happens to be the Senator's 45th birthday, we will gather in Washington and via the Internet to celebrate our quest for Marco to be nominated by the Republican party to be the 45th president of the United States of America. Indeed, "45" is our magic number," SBTC Chairman and Nominate Marco Spokesman James Lamb said. "I encourage all Americans who have yet to vote in their states' primaries to block Donald Trump from reaching the 1,237 delegate mark by strategically voting for Cruz or Kasich in the remaining winner-takes-all states, vote for Rubio in the remaining proportional states, and I ask all Americans to please consider signing our petition to draft Senator Rubio at the Convention," Lamb added. Lamb's Change.org Petition states: "Whereas, mathematically, it appears virtually impossible that any Republican candidate will receive the requisite 1,237 delegates needed to secure the 2016 Republican party presidential nomination; and Whereas, we the members of the Republican party believe the Honorable Marco Rubio remains the best and most qualified candidate to defeat the Democratic nominee; Now, be it hereby resolved that we the members of the Republican party hereby request that any and all unbound delegates elect Marco Rubio as our nominee; and Be it further resolved the party remove any and all barriers and suspend or eliminate any and all rules that interfere with such ability of said unbound delegates to vote for Marco Rubio as the nominee." Americans wishing to join the Nominate Marco campaign to draft Senator Rubio at the Convention can find the Petition here. "We believe Marco Rubio is the one candidate who has the moral clarity, insight, vision and character who is dedicated to Conservative principles and worthy of being president. We believe neither Donald Trump nor Ted Cruz can beat Hillary. Marco Rubio Can. It's still not too late to put America back on track. America may very well get a second chance to reconsider the Honorable Sen. Marco Rubio at the convention, and I really hope we do for America's sake," Lamb said. ABOUT NOMINATE MARCO Nominate Marco is a grassroots effort to get Marco Rubio selected as the Republican Nominee. Disclaimer: "NominateMarco.com is not affiliated with –or endorsed by –Marco Rubio or the Rubio campaign. ABOUT SBTC The SBTC is an international network of transportation professionals, associations, and industry suppliers that is on the front lines when it comes to issues that affect transportation professionals in small business. We seek to promote and protect the interests of small businesses in the transportation industry. We support teamwork, cooperation, transparency, and partnerships among truckers, carriers, brokers, and shippers and seek to promote ethical business practices and do business with the utmost integrity.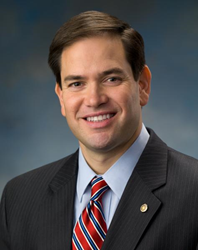 http://www.prweb.com/releases/2016/04/prweb13337909.htm]]>