<![CDATA[SOURCE: PRWeb

New O'Leary Report Poll Relleased: A new poll shows that Republicans nationwide prefer Donald Trump as their candidate for president over Paul Ryan. The numbers prove that Trump shows significant preference over Ryan.

AUSTIN, TX (PRWEB) APRIL 26, 2016 The O'Leary Report, who for twenty years has done State of the Union polling with Zogby Analytics, has commissioned a series of polls examining the opinions of Republicans nationwide regarding their presidential candidates. This new poll is part of a series being done asking Republicans who they want to represent them i a presidential race. In the first poll on March 18-21, Donald Trump was matched against Mitt Romney and Trump won by 50% against Romney's 37%. This poll pits Donald Trump against Paul Ryan. Ryan is a natural choice for a Republican presidential candidate because of his long history of service in the politics of the national government. He has been a Representative for the state of Wisconsin since 1999, and is currently the Speaker of the House of Representatives. Zogby Analytics did the online survey of 267 Republican voters nationwide with a margin of error +/-6.1 percentage points. The poll ran on April 19, 2016. The question was "If the election for the Republican nominee for President was being held today, and the candidates were Donald Trump and Paul Ryan, for whom would you vote?" We asked the question this way to make it more generic rather than get in to the complexities of an open national Republican convention. 58% of Republicans chose Donald Trump while 30% chose Paul Ryan, and 12% indicated they were unsure. Trump clearly won with males 64/26%. With females, his margin was closer 53/33%. Trump won over Ryan for the support of Catholics and Protestants by a 60/29% margin, and those considering themselves Born Again by a 61/29% margin. Trump carried retired Republicans 59/33%, those working full-time 61/25%, and people aged 30-49 years old at 68/21%. Trump garnered key support from Republicans over Ryan who are married with 60/31%, and those who own their homes with 61/28%. Trump won among Republicans who consider themselves liberal with 58/35%, and also carried both moderates and conservatives 62/28%. Trump triumphed over Ryan among Republicans with college degrees by 60/31%, and those with no college degrees by 57/30%. Trump also carried Republicans who are members of the National Rifle Association by a 80/10% margin, as well as NASCAR fans by 60/29%. Finally, Donald Trump found support among veterans and members of the armed forces with 69/22%. It's clear to us from these margins that Donald Trump is the prime candidate to unify the Republican party. To read the full report, you can go to http://www.theolearyreport.com or contact Zogby Analytics for a copy at http://www.zogbyanalytics.com. Brad O'Leary, publisher of TheOLearyReport.com and former NBC News Radio/Westwood One talk show host, is the author of the The United States Citizens' Handbook and former feature writer for USA Today Weekend magazine.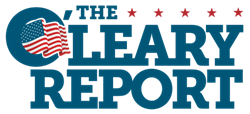 http://www.prweb.com/releases/2016/04/prweb13368506.htm]]>