<![CDATA[

Theo tin Armada Publishing

Data gathered from Instachatrooms predicted Trump election victory a week before the Republican candidate was voted into the White House

LOS ANGELES, CA (PRWEB) NOVEMBER 15, 2016 A press release sent out by popular online chat room service, Instachatrooms, last week predicted that Donald Trump would defeat Hillary Clinton in the presidential election by using data mined from users of their political chat rooms. While polls conducted up and down the United States on a range of platforms showed Clinton was a shoo-in for the presidency, Instachatrooms monitored users between the first and third presidential debates to show that 45% of people using the service supported Trump, while only 39% supported Clinton. The use of traditional polls in predicting major political elections and referendums has come under intense scrutiny in recent times, having wrongly forecast the outcome of the 2014 US midterm elections, elections in Scotland, Canada, Turkey, Israel, and Greece twice, Brexit, and now the United States presidential election. All of this within the last two years! There are many reasons for inaccurate polling data such as voters changing their minds, canvassing data from a selected group of people while neglecting another group, and undecided voters providing inaccurate information under pressure. Due to these reasons, and many others which contribute to inaccurate polling data information, mining data from non-pressurized and open sources such as chat rooms can hold the key to gaining a clearer picture of how people may vote in an election or referendum. Unlike traditional polls where people are specifically asked who they will vote for, users in chat rooms discuss and defend their candidate or decision on their own accord. It is therefore much more likely that these people will stick with their choice when entering the voting booth. "We need to come up with a better way of predicting how election and referendum results may pan out in the future," said Instachatrooms CEO, Allen Fox. "By harnessing the data from sources such as chat rooms and other places where people freely and willingly express their opinion, we could gain a more accurate prediction of the outcome for major political events." About Instachatrooms Instachatrooms is an open-minded chat room service which provides a platform for people to connect with strangers, seek support and help, and discuss everything from sports to politics. The service offers a variety of free chat rooms where users can chat in a main lobby with hundreds of other users or private chat with individual users using a unique nickname. The service also includes webcam chat, customization of fonts and text, and user avatars.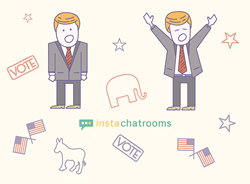 http://www.prweb.com/releases/2016/11/prweb13847192.htm

Note: We are not responsible for typo error, price change, substitute item, or available of item from online ads.]]>