<![CDATA[

Theo tin The American Center for Political Leadership at Southeastern University on prweb.com

Voters Seek Common Ground and Look to U.S. Colleges and Universities for Bipartisan Solutions According to New Poll by the American Center for Political Leadership

LAKELAND, FLA. (PRWEB) JANUARY 28, 2019 American voters believe the country's political leaders are failing to deliver on the civility, authenticity and respect their constituents expect, and want to work together to find common ground, according to U.S. Voter Sentiment on Civility in Politics, a new national survey released today by the American Center for Political Leadership (ACPL). According to poll results, voters are optimistic that the nation's colleges and universities can serve as an effective platform to mend the nation's divides. Key Findings: By a near 4:1 margin, 79 percent of voters believe political leaders must demonstrate civility, authenticity and respect. Conversely, 21 percent believe political leaders must fight for what is right, even if that means getting aggressive and rude with opposition. By nearly identical margins, 78 percent of voters want to see their elected officials work for everyone in the general public, compared to 22 percent reporting that elected officials should solely fight for the policies their supporters believe. Seventy-five percent of voters want to work together to find common ground over standing up for their point of view. Sixty-nine percent believe America's colleges and universities should be leading the way through bipartisan research activities, academic programs, courses, and workshops that serve to develop the next generation of political leaders to protect individual freedoms, cultivate civic engagement and advance political civility in the country. American voters are in near universal agreement that our next generation of political leaders should civilly advocate for and effectively discuss these critical challenges to the nation: economic freedom, or the right of individuals to control their labor and property (96%); racial equality (92%); religious freedom (92%); gender equality (88%); and traditional values (87%). "Americans have made it abundantly clear that they're tired of the polarization, the fighting among politicians and the dysfunction of government," said Kent Ingle, president of Southeastern University in Lakeland, Fla., where ACPL is located, and author of Framework Leadership. "American voters want servant leaders, those who serve for the interests of all Americans, regardless of political party affiliation." The poll comes as the first bipartisan research activity by ACPL, which opened in January. The center also houses academic programs, courses, workshops and resources that prepare the next generation of political leaders and passionate citizens who aim to promote traditional American values and individual freedoms with civility, authenticity, respect and decorum in government and society. ACPL was formed in response to the toxic political climate, the disconnect that many Americans feel towards the policies and motivations of political leaders, and their lack of understanding of how to get involved in the political process. According to the U.S. Voter Sentiment on Civility in Politics poll, 69 percent of respondents believe colleges and universities can help to bring important solutions to today's divisive politics through bipartisan activities. "The American Center for Political Leadership is working to cultivate and engage the next generation of political leaders and active citizens, and to bring servant leadership back to American politics," said Dennis Ross, ACPL director and former representative of Florida's 15th congressional district. Ross also serves as a distinguished professor of political science at Southeastern University. The study was conducted by Heart + Mind Strategies on the evening of the November 6th 2018 midterm elections. The online survey results reflect the selections of the 1,058 respondents, all chosen from a national sample of midterm voters. To view or to download the full report, visit theacpl.org/survey. The center operates under the Jannetides College of Business and Entrepreneurial Leadership at Southeastern University. For more information or to interview Dr. Ingle, contact Dana Davis at 863-667-5020, 863-712-1997, or dcdavis@seu.edu. About SEU Southeastern University (SEU) is a Christ-centered institution of higher learning. Founded in 1935 and located in the Central Florida community of Lakeland, Southeastern offers more than 80 degree programs including bachelor's, master's and doctoral degrees. Southeastern's reach expands beyond the Lakeland campus, with a comprehensive online learning program and more than 100 extension site programs nationwide. The university is accredited by the Southern Association of Colleges and Schools Commission on Colleges. Learn more at SEU.edu. About the ACPL The American Center for Political Leadership at Southeastern University stands at the intersection of cutting-edge education and trailblazing research. The country's cultural landscape has never been more fragmented. From cross-party contempt to inner-party turmoil, our political institutions are in danger of becoming irrelevant to the emerging generation. The ACPL acts under the belief that a significant part of the solution is elevating authentic leadership principles and inspiring the next generation of leaders to get off the sidelines and thoughtfully engage in government. As a result, the center plans to develop its research in three key areas: protecting individual freedoms, cultivating civic engagement and advancing political civility. The scholarship generated from this research will inform best-in-class degree programs, empowering students to engage government and society through civil, productive political discourse.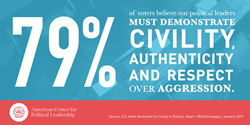 https://www.prweb.com/releases/new_poll_american_voters_believe_political_leaders_fail_to_deliver_civility_authenticity_and_respect/prweb16060206.htm]]>