<![CDATA[SOURCE: prweb.com,
Walk with Bernie all the way to the White House. Now Bernie Sanders supporters can do it in a pair of Bernie Sandals, brought to you by the Print Complex.
BUFFALO, NEW YORK (PRWEB) APRIL 07, 2016 The Print Complex, a small print company based in upstate New York has created a fresh, clever way for Bernie Sanders supporters, Berniecrats or Berners to show their allegiance and feel the bern. Bernie Sandals are 100% USA manufactured and printed sandals for those who favor fair trade, equal rights for all, reforming wall street and campaign funding laws and overall world peace. Sandals for Bernie Sanders supporters. They are now available through the company's kickstarter project. "The idea was to come up with a creative way to increase exposure and get his name out there to more people. We think it's also important to have some fun in the political process" co-owner, Brian Batrowny said. The sandals are manufactured by a company in Georgia using a recycled microplast material. The sandals are printed in house, according to Batrowny. "It was never an option to make Bernie Sandals anywhere but here. 100% made in the USA," he said. Colors available are Red and Blue. Also available in the Kickstarter campaign is the Bernie PAC, the preferred storage accessory for the 99%. The Bernie PAC was created to 'level the playing field', says Batrowny. "We wanted to give Bernie and fellow Berners another tool to combat the special interests groups and big money interests," he continued. We have seen Bernie Sanders action figures take the country by storm. Not long after we had #BirdieSanders trending across the internet. Now you can 'Walk with Bernie' in your own pair of Bernie Sandals by visiting the kickstarter page. Just in time as the weather breaks and more importantly, a possible showdown at the Democratic National Convention in Philadelphia.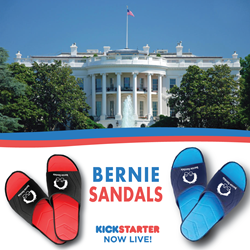 http://www.prweb.com/releases/bernie_sandals/for_bernie_sanders_berner/prweb13317437.htm]]>