Theo tin ProCon.org, hay prweb.com
ProCon.org Launches Nonpartisan Website on the 2020 Presidential Candidates
The nonprofit organization ProCon.org follows its 15th anniversary with a new site offering unbiased information on the 2020 presidential election. 2020Election.ProCon.org features a quiz matching voters with candidates based on their views on the issues, along with many other election resources.
SANTA MONICA, CA (PRWEB) OCTOBER 01, 2019
ProCon.org, the nation's leading provider of unbiased pros and cons of controversial issues, launched 2020Election.ProCon.org to show the 2020 presidential candidates' views on issues that matter to many voters.
2020Election.ProCon.org features include:
The presidential candidates' views on the issues in their own words;
A quiz matching voters with candidates based on the issues;
Position change tracking for candidates whose views change over time;
Candidate biographies, campaign finances, and a candidate comparison summary chart;
A summary of 28 peer-reviewed neuroscience studies showing differences in how the brains of conservatives and liberals process the same data.
ProCon.org had similar sites for the 2008, 2012, and 2016 presidential elections. The New York Times wrote of ProCon.org's 2012 election coverage: "The most comprehensive tool for researching the candidate's stance on issues is the nonpartisan nonprofit ProCon.org."
The site currently lists the candidates' views on 10 issues, including minimum wage, Medicare for All, and the Green New Deal, and will grow to at least 50 issues by Oct. 15, 2020. ProCon.org has over 20 million visits annually, a number that jumps during presidential election years as voters seek out reliable sources of information about the candidates.
"As a nonprofit, we're free from the pressure of trying to generate traffic with clickbait, which allows us to maintain rigorous editorial standards and focus on providing credible, accurate research," said Steven C. Markoff, ProCon.org's founder and interim CEO. "Thanks to our website, people who are interested have easy access to the information they need to help them make a better voting decision in 2020."
Providing meticulously cited research for over 15 years has positioned ProCon.org to play a much-needed role in the country's election coverage: offering unbiased information from a trusted source.
Voter turnout among young adults has hovered around 50% in the past four presidential elections.
92.5% of 18-29 year olds in a peer-reviewed study said that they would be more likely to vote if they were given unbiased information from a respected nonpartisan organization.
The resources offered on 2020Election.ProCon.org will help educators who teach about the presidential election and members of the public who want to become better informed voters.
"Said another way, we present such good arguments on both sides of controversial issues that we hope to confuse the reader," Markoff said. "Science is pretty clear that when we're confused, we're naturally forced to think more."
About ProCon.org: ProCon.org is a 501(c)(3) nonprofit organization founded in 2004 that serves more than 23 million people each year, including students and teachers in more than 11,000 schools in all 50 states and 90 foreign countries. ProCon.org's mission is "Promoting critical thinking, education, and informed citizenship by presenting controversial issues in a straightforward, nonpartisan, and primarily pro-con format."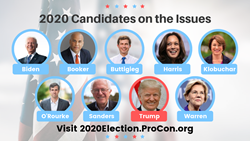 https://www.prweb.com/releases/procon_org_launches_nonpartisan_website_on_the_2020_presidential_candidates/prweb16610565.htm